Maryjane
Added October 17, 2001 to Bang Bus
Featuring Mary Jane
Maryjane, what can I say about Maryjane? She was a true certified fucking black bitch ho with anal beeds! I loved her, what a day! I hooked up with an old friend of mine, Santino Lee (or what I call him Santini which he hates). Santino called me after seeing one of my movies and told me that wanted to be a part of history. Since I would never turn down making history, we met up with Santino and headed for the projects. We saw this black chick with a fine body - I mean titties falling out and a big phat juicy ass dripping out of her hot pants. At first she wouldn't give us the time of day but then I asked for directions of how to get the fuck out of the projects and she told us to fuck off again... we left while Santino went back to talk to her about giving us directions and giving her a ride to her neighborhood (she apparently had been waiting for a taxi all day). It seemed she didn't want to come with us, then she took us up on the offer when Santino turned on his charm, which is kind of like a silly, serious pimp mode which alot of the sistas seem to like. Well the whole thing in a nutshell, is that Maryjane turned out to be a BIG fucking ho. We found this out quickly when Santino started wrestling with her because she wouldn't show her tits and the whole thing went out of control. Water was being flung everywhere and it ended with Santino pinning Mary riping her pants off and spreading her ass. I have to tell you that when he spread that big black nubian ass he found a ripchord or something so he started to pull on it and these big black beeds I mean and inch in diameter started popping out one after the other. Needless to say we were all in shock... until Santino started swining the fuckin beeds around and ass juice started getting on everything. I was freaking the fuck out, then Santino grabbed her and threw her down on the ground. I commanded her to start sucking the cock and man could that bitch suck some fucking dick I thought she was going to suck the black right off of Santino but that wasn't enough for me. I wanted to see this ghetto ho get stuffed in the bang bus. Santino stuffed her black ass, he was just destroying her, making her beg for mercy until we dropped her on her ass and fucking slammed her face with a load of white cum. I'll tell you, nothing is more beautiful then unity - when white touches black in that tender and loving way.............
WATCH THE FULL LENGTH VIDEO NOW
Join now and instantly watch and download all of our over 9000 exclusive, original movies as much as you want for one low monthly price!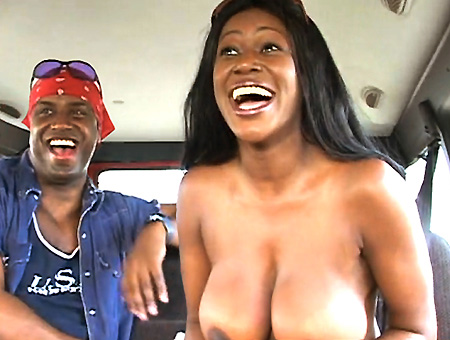 Remastered: Maryjane Added to BangBros Remastered on Jul 23, 2011 17,722 views, 2 likes and 517 favorites

PLAY FILMED IN HIGH DEFINITION
Join now and instantly watch and download all of our over 9000 exclusive, original movies as much as you want for one low monthly price!